Darren Rowse from ProBlogger is currently giving away over $54,000 worth of prizes in his Birthday Bash celebration.
The first giveaway to kick off the prize bonanza was for 12 random winners to receive a copy of Aaron Wall's SEO Book.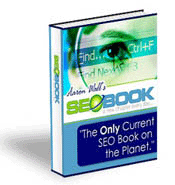 After reading so many positive reviews of this book, I had asked my wife to purchase a copy of the book as a birthday present for me. Needless to say she did not purchase the book for my birthday so I still had the book on my wish list.
When I saw the contest over at ProBlogger, I figured that I would submit a comment to enter the contest but did not think that I would actually be selected as one of the winners. Much to my surprise, I received an email a few hours later indicating that I had won a copy of the SEO Book and would be receiving an email from Aaron Wall with further instructions.
Late last night I received the email from Aaron and immediately downloaded my copy of the book. Thanks to both Darren and Aaron!
Initial Thoughts of SEO Book
The book currently checks in at 331 pages (although Aaron's site indicates 328 pages) which would be pretty daunting to try and read and comprehend all at once. The great thing is that Aaron has provided a nice summary at the start of the book that includes Do-It-Yourself SEO Tips and an SEO Quick-Start Checklist to help get you started.
From what I have read of the summary thus far and the few sections I skimmed last night, I think this book is well worth the $79 price tag. As an added bonus, Aaron provides free lifetime updates to anyone that purchases the book as well. Given that search engine optimization often seems to be a moving target, being able to receive up-to-date information is invaluable.
If you have found yourself asking any questions about SEO or how to build a successful website/blog that receives volumes of traffic, you might want to buy a copy for yourself!
Over the next few weeks I will be digesting the book and putting the information to good use!